Mission
Smack Mellon is a nonprofit arts organization located in DUMBO, Brooklyn. Smack Mellon's mission is to nurture and support emerging, under-recognized mid-career and women artists in the creation and exhibition of new work, by providing exhibition opportunities, studio workspace, and access to equipment and technical assistance for the realization of ambitious projects. We see ourselves as a vehicle whereby under-represented artists can create, explore and exhibit their creative ideas outside the concerns of the commercial art world, offering many artists the exposure and recognition they deserve.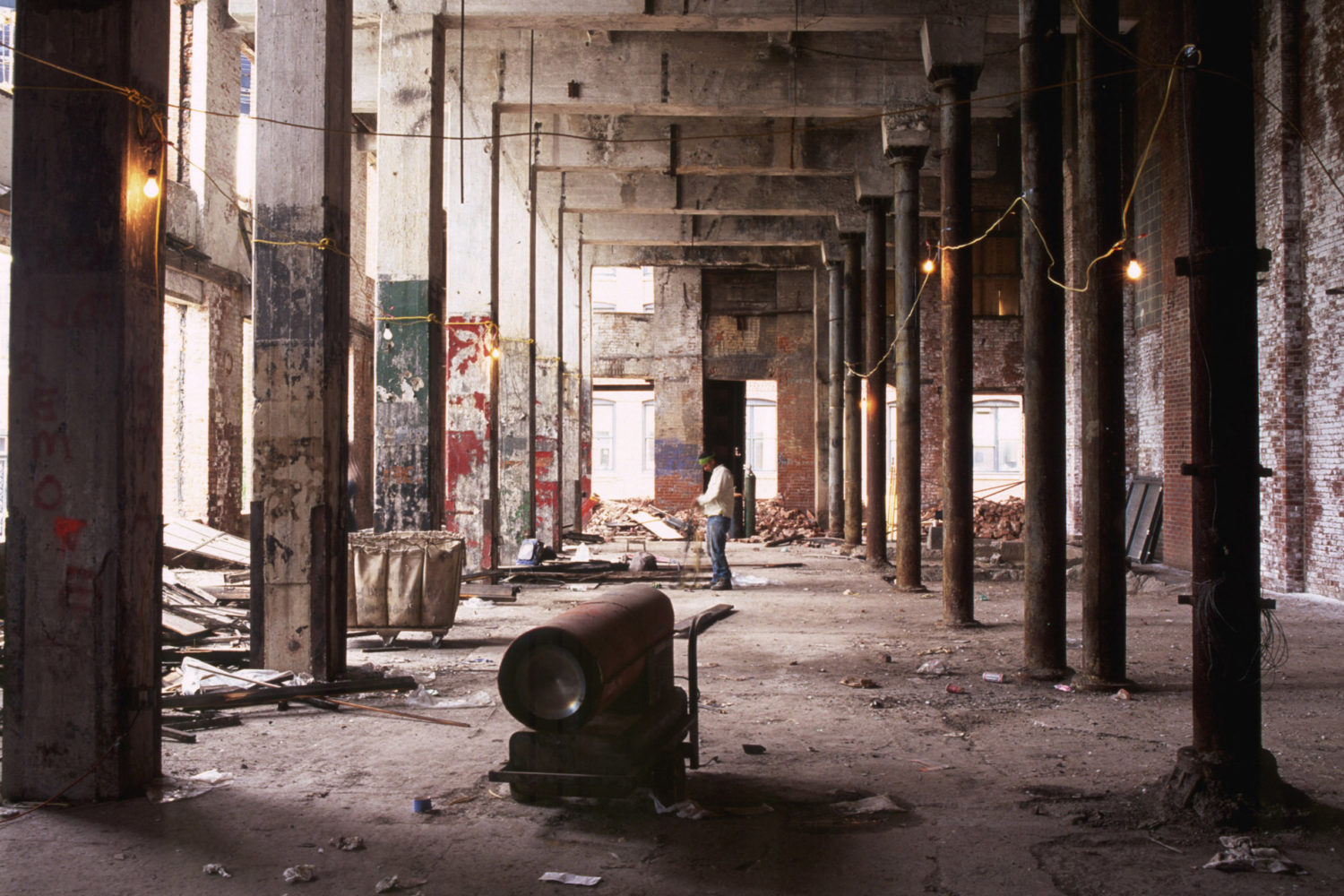 History
Smack Mellon was founded in 1995 by Andrea Reynosa and Kevin Vertrees in their loft at 135 Plymouth Street. David Baskin, James Hong, and Tommy Bordonaro provided a wealth of creative and technical support that was instrumental in the early development of the organization. From 1996–2004, Smack Mellon evolved to present exhibitions in dynamic spaces throughout the DUMBO neighborhood, thanks to generous space donations from the Walentas Family and Two Trees Management. Smack Mellon found homes in both a former rubber factory at 81 Washington Street and a former spice factory at 56 Water Street. In October 2005, Smack Mellon moved into its current home at 92 Plymouth Street, across from Brooklyn Bridge Park. Built by Robert Gair and designed by William Higginson, the 1880s structure is a converted boiler house that originally produced steam, providing heat and power to other facilities in the neighborhood. Smack Mellon worked with Sage & Coombe Architects to transform the building and create a unique cultural space that provides free admission to museum-scale contemporary art exhibitions, studio workspaces, and educational and public programs.
---
Programs
Smack Mellon's Exhibition Program provides opportunities for artists who do not have gallery representation in New York. Our facilities allow artists ample room to explore their medium and present their work, enabling them to create their most ambitious projects to date. Smack Mellon presents solo and group exhibitions featuring artists who tackle subjects that challenge us to reflect on the changing world in which we live.
The Artist Studio Program was launched in 2000 in response to the worsening crisis in availability of affordable workspace for artists living and working in New York City. This program provides free studio space, access to a fabrication workshop, a media lab with editing suites, and a fellowship to six artists for a yearlong residency. Smack Mellon convenes a panel of arts professionals annually to select the six Studio Artists from over 600 applicants.
Art Ready is an unparalleled opportunity for New York City public high school students to become exposed to professional life as an artist. The program engages young people in a way no other arts education program does–by pairing students directly with successful working artists. Mentors tutor the students in their creative process, introduce them to new ways of working, engage them in continuous critical reflection, and provide guidance as the students make decisions about their futures in the arts.